2023-2025 Catalog Volume XXXI Ver 1
2023-2025 Catalog Volume XXXI Ver 1
---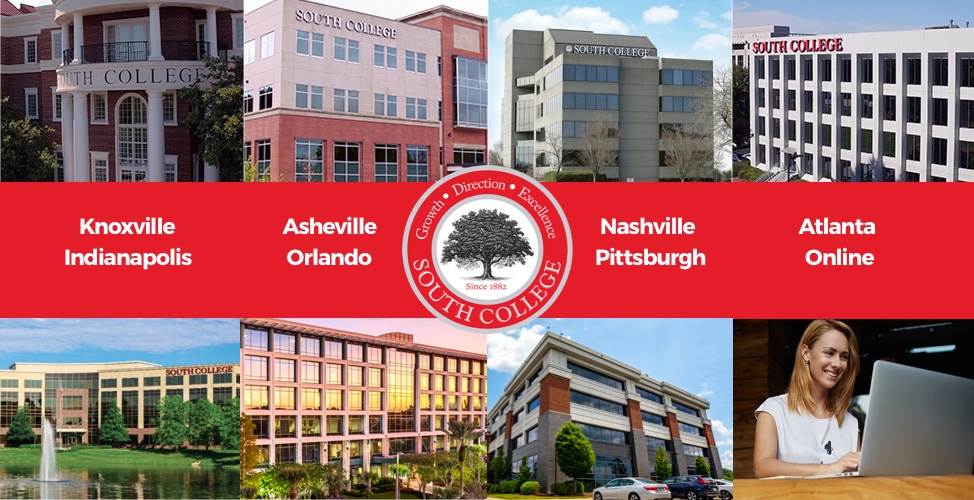 2023-2025 Catalog Volume XXXI Version 1
Main Campus - 3904 Lonas Drive, Knoxville, Tennessee 37909
865-251-1800
Parkside Learning Site - 400 Goody's Lane, Knoxville, Tennessee 37922
865-251-1800
Asheville Learning Site - 140 Sweeten Creek Road, Asheville, North Carolina 28803
828-398-2500
Nashville Learning Site - 616 Marriott Drive, Nashville, Tennessee 37214
629-802-3000
Atlanta Learning Site - 2600 Century Parkway NE, Atlanta, Georgia 30345
470-322-1200
Indianapolis Learning Site - 301 Pennsylvania Parkway, Indianapolis, IN 46280
(317) 819-7920
Orlando Learning Site - 6649 Westwood Blvd., Orlando, FL 32811
(407) 447-6900
Pittsburgh Learning Site - 3000 Westinghouse Drive, Suite 200, Cranberry Township, PA 16066
(724) 720-9500
Introduction
This catalog is an information book and reference guide for the institution's academic programs, courses, policies, and procedures. Students are subject to the rules and regulations of the current catalog regardless of their original quarter of enrollment. The catalog, or any subsidiary handbook, is not intended as a contract between the student and the institution. This catalog is available online at www.south.edu. Alternative formats of this publication are available upon request. For more information, contact the Department of Admissions.
While the provisions of this catalog will ordinarily be applied as stated, the college reserves the right to change any provision/contents listed in this catalog, including but not limited to, academic requirements for graduation, without actual notice to individual students. Every effort will be made to keep students advised of any changes. Information on changes will be available in the office of the Registrar. It is especially important that students note that it is their responsibility to keep apprised of current graduation requirements for their particular program.
All academic information in this catalog applies to all South College campuses unless stated otherwise.
Additional specific information and policies relating to particular programs not included in the catalog can be found in the handbooks for these programs, which may be obtained from the Program Director or Dean/Chair for the program.
Each term a Schedule of Classes is made available to students. The Schedule includes all courses to be offered during the term, as well as times and locations. Not all courses listed in the catalog are offered each term. Students should be aware that courses may be offered in a variety of combined instructional modalities including (but not limited to) onground, online, blended/hybrid, and clinical/internship/externship/practicum/fieldwork/student teaching formats. Some programs may have limited program delivery options. Please see your Academic Advisor for additional information.
South College is an equal opportunity college open to any qualified individual without regard to race, religion, sex, age, color, national or ethnic origin, sexual orientation, or disability. Pursuant to all applicable federal anti-discrimination laws, including Section 504 of the Rehabilitation Act of 1973, and regulations, South College does not discriminate against any of the protected categories of individuals in the administration of policies, programs, or activities. This nondiscrimination policy includes admission policies, loan programs, employment practices, and all other college-administered programs. The following individuals are charged with ensuring South College's compliance with these laws:
Dean of Academic and Student Services (Main Campus & Parkside Campus) 3904 Lonas Drive, Knoxville, TN 37909, Phone: (865) 293-4576;
Dean of Academic and Student Services (Asheville Campus), 140 Sweeten Creek Road, Asheville, NC 28803, Phone: (828) 398-2566;
Dean of Academic and Student Services (Nashville Campus), 616 Marriott Drive, Suite 550, Nashville, TN 37214, Phone: (629) 802-3000;
Dean of Academic and Student Services (Atlanta Campus), 2600 Century Parkway NE, Suite 110, Atlanta, GA 30345, Phone (470) 322-1200;
Dean of Academics Online (Online), 3904 Lonas Drive, Knoxville, TN 37909, Phone (912) 272-8256;
Dean of Academic and Student Services (Indianapolis Campus), 301 Pennsylvania Pkwy., Indianapolis, IN 46280, Phone (317) 819-7900;
Dean of Academic and Student Services (Orlando Campus), 4901 Vineland Rd., Suite 140, Orlando, FL 32811, Phone (407) 447-6900
Dean of Academic and Student Services (Pittsburgh Campus), 3000 Westinghouse Dr., Suite 200, Pittsburgh, PA 16066, Phone (724) 720-9500
Institutions of higher education are in existence to provide learning experiences for their students. Academic freedom in teaching and learning is essential to this purpose and is fundamental for the protection of the rights of the students as well as the faculty members. Students at South College have the rights of freedom of inquiry and speech within their learning experiences. These rights are based on the assumption that students will act responsibly in the learning environment.
South College is committed to developing in each student an understanding of the knowledge and ethics that are consistent with responsible professional and social behavior. Students are expected to meet academic requirements as well as to develop a sense of personal responsibility toward others and respect for their individual rights. The atmosphere of the college reflects these goals, and in turn, each student must be aware of his/her individual responsibility to behave accordingly.
By enrolling as a student at South College, students agree to abide by the rules and regulations of the college. The Academic Honor Code is included in this Handbook, as well as Student Conduct Standards and Regulations which address student behavior. Alleged violations of the Academic Honor Code, Student Conduct Standards and Regulations, or the Computer Code of Ethics should be referred to the Director of Student Success or Student Affairs Coordinator/Director. Some areas of study have supplementary materials in programmatic policies and procedures manuals that students in these disciplines are responsible for as well as those in this Student Handbook. South College reserves the right to change any provision listed in the South College Catalog and all other college publications without actual notice to students.
---